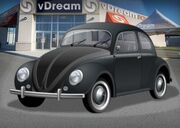 Horsepower
(stock/max)

40 HP/?

Torque
(stock/max)

64 ft-lbs/?

Weight
(stock/lightest)

1,700 lbs/?
Creator
Price
$13,000
Unlock Level
Licensed
Widebody Kits
F5000 Widebody Kit
Conversions
Description

Considered by many as the best-selling car design in history, the beetle is one of the most recognizable cars in history.

Colors (wbk colors)
Cream, Beetle Black, Old Red, Sea Green, Sky Blue, Dark Green
Ad blocker interference detected!
Wikia is a free-to-use site that makes money from advertising. We have a modified experience for viewers using ad blockers

Wikia is not accessible if you've made further modifications. Remove the custom ad blocker rule(s) and the page will load as expected.