====WHEELS/TIRES/BRAKES====
Matador Brake Pads Endless
Slotted Cross-drilled Brake Rotors (m) Brembo
8 Piston Forged Calipers (m )Brembo
Full Carbon Fiber Wheels, 17" Weds Sport
====DOWNFORCE====
Stock rear bumper for Supra Toyota
Type I Sideskirts for Supra Do-Luck
Rear Lip for Supra VeilSide
JGTC Spoiler for Supra Toyota
Type I Front Bumper for Supra Do-Luck
Stock fuel system for Supra Toyota
====ENGINE EXTERNALS====
Racing Battery (B14115)Braille Auto
Drager Catback Exhaust for Supra HKS
Racing Pulley Kit for Supra Unorthodox
T04R Turbo Kit for Supra HKS
Intake Plenum for Supra VeilSide
Racing Suction Intake for Supra HKS
====EXTERIOR AESTHETIC====
Stock door handles for Supra Toyota
Stock gas cover for Supra Toyota
Stock taillights for Supra Toyota
Stock top for Supra Toyota
Stock Windshield Tint vDream
Stock Quarter Panel Window Tint vDream
Stock Side Window Tint vDream
Headlight Intake for Supra HKS
Carbon Fiber Hood for Supra VIS
Carbon Fiber Trunk for Supra Seibon
Carbon Fiber Doors for Supra vDream
Carbon Fiber Rear Fenders for Supra Seibon
Carbon Fiber Front Fenders for Supra Toyota
Super GT Aero Side Mirrors for Supra Chargespeed
====ENGINE INTERNALS====
Stock pistons for Supra Toyota
Engine Management System for Supra AEM (Advanced Engine Management)
S2 Camshafts for Supra GSC Power Division
====ACCESSORIES====
Stock back seats for Supra Toyota
Stock steering wheel for Supra Toyota
Zeta III Passenger's Seat Bride
Zeta III Driver's Seat Bride
====DRIVETRAIN====
Stock transmission for Supra Toyota
====SUSPENSION====
H-Tech Springs for Supra Tein
Illumina Shocks for Supra Tokico

Times:
TRACK: 52.335 seconds
DRAG: 9.170 seconds
ENDURANCE: 55'07.78 seconds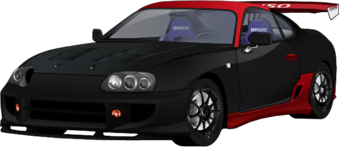 Ad blocker interference detected!
Wikia is a free-to-use site that makes money from advertising. We have a modified experience for viewers using ad blockers

Wikia is not accessible if you've made further modifications. Remove the custom ad blocker rule(s) and the page will load as expected.