Sanni Godzilla 33
Edit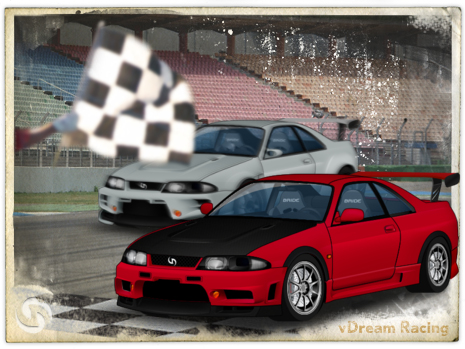 The Red is the Regular R33 with Nismo 400r parts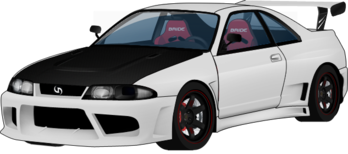 Zeemax R33 WBK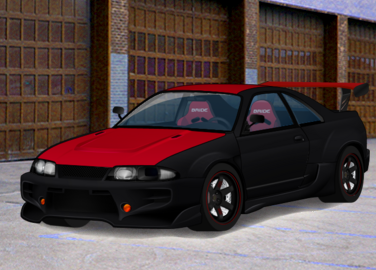 Veilside C1 R33 WBK
Based on the Nissan Skyline GT-R R33
Horsepower (Stock/Maxed)
280HP/911HP
Torque (Stock/Maxed)
293 ft-lbs/ 874 ft-lbs
Weight
3,145 lbs
Creator
Law Kin
WideBodykit

Veilside C1 $45,000

Zeemax $37,000

Price
$78,000
Unlock Level
Club Racer
Conversion Kit
-
Description
The R33 version of Godzilla is another crowd favorite. Sporting the same RB26DETT engine as the other two of the same platform, this car will make lots of power for an inline 6.
Colours
White , Super Clear Red , Midnight Purple , Deep Marina Blue , Sonic Silver Metallic , Yellow(Custom Colour , can be bought at part shop)

Times

Drag:8.9 Sec

Track:50.6 Sec(Veilside C1 WBK)

51.0 Sec(Zeemax WBK)

 ?.?? Sec(Regular)


Enduro: 47'47 min
Sanni Godzilla 34
Edit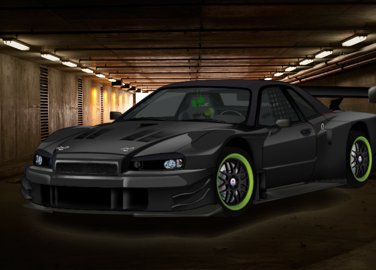 Sanmo JGTC/Super GT WBK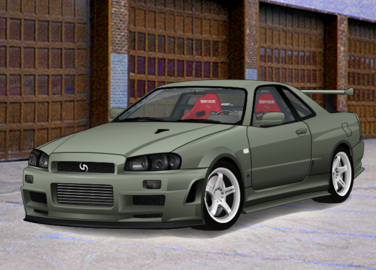 Regular R34 with Sanmo(Nismo) Parts
Based on the Nissan Skyline GT-R R34
Horsepower
(stock/max)

280 HP/933 HP
Torque
(stock/max)
293 ft-lbs/893 Ft-lbs
Weight
(stock/lightest)
3,395 lbs/?
Creator
Paid Artists
Widebody Kits
SANMO Super GT Kit for R34 (v$250,000)
Price
$90,000

Unlock Level

Club Racer
Conversions
N/A
Description
With a rich heritage in motorsport, the Godzilla is one of Japan's most recognizable cars. You've found a mint condition R34.
Colors (WBK colors)
Athlete Silver, Bay Side Blue, Black Pearl, Millenium Jade, Active Red, Skyline White, Lightning Yellow (Athlete Silver, Bay Side Blue, Black Pearl, Millenium Jade, Active Red, Skyline White, Lightning Yellow)
Timings :
Drag - 8.730 sec
Track - 43.3 Sec (R34 JGTC WBK) 52.4 Sec (Non Wbk)
Endurance - 46'26 minutes
This car has a very huge following among JDM fanatics. The car is unavailable anymore due to copyright issue with Nissan. However, owners can still keep their car.
Sanni Godzilla 35
Edit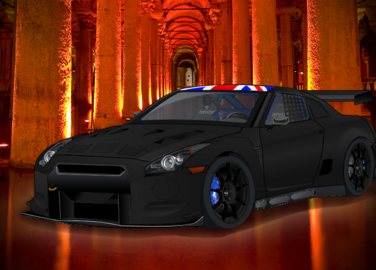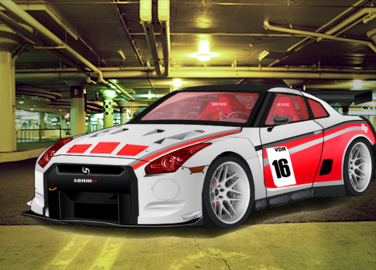 Fia Gt1 Wbk Swiss Racing Livery Godzilla 35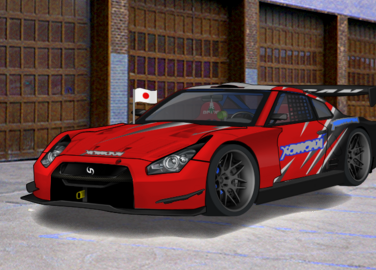 Sanmo Super GT Xanavi Livery Godzilla 35
Based on the Nissan GTR R35
Horsepower (stock/max)

480HP/658HP
Torque (stock/max)
430 ft-lbs/575 ft-lbs
Weight (stock/ lightest)
3836 lbs/?
Creator

Paid Artists

WideBody Kits

GT500 Widebody Kit $380,000.00 (Livery: $480,000.00)

FIA GT1 Widebody Kit $165,000.00 (Livery: $195,000.00)

Price
$78,000
Unlock Level
Club Racer
Conversions
N/A
Description

Godzilla makes an appearance on US soil on July 7, 2008. The storied GTR is finally here! It has the abilities of more expensive supercars.

Colors (wbk colours)

Dark Metal Gray, Super Black, Pearl White, Vibrant Red, Ultimate Silver. (GT500: Xanavi, Hasemi, Custom Lowes livery. FIA GT1: Swiss Racing Team , Sumo Power GT)
Cost (Stock/Max)
$78,000
Timings (Drag Track Endurance)

Drag ????secs

Track:

42.6 secs(With GT500 WBK) 43.4 secs(With FIA GT1 WBK)

45.x Secs (With Non wbk)

Endurance ???? (80+ friends)

The Sanni Godzilla 35 (better known as the Nissan GT-R ) is unlocked at club racer, it is one of the best track cars in that tier (along with the 911 GT3), It is renowned for its superior handling and acceleration as well as completing the Nurburgring in under 7 minutes and 29 seconds. The car can handle well in endurance and drag which makes it a great underdog.The car is unavaialable anymore due to copyright issue with Nissan. However, owners can still keep their car.
Ad blocker interference detected!
Wikia is a free-to-use site that makes money from advertising. We have a modified experience for viewers using ad blockers

Wikia is not accessible if you've made further modifications. Remove the custom ad blocker rule(s) and the page will load as expected.