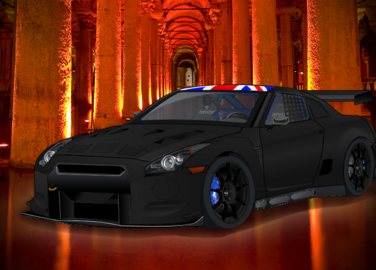 This is a page on the WBKs of the Nissan GTR
GTR Stock and WBK Specs
| | |
| --- | --- |
| BHP/Stock(Max Tuned) | 480hp (658hp) |
| Cost | v$78000 |
| WBK's | GT500 WBK, FIA GT1 WBK |
| Colours | Super Black, Pearl White, Vibrant Red, Ultimate Silver, Dark Metal Grey |
| WBK Liveries | GT500, Livery1,2 &3 (FIA GT1 livery- Swiss Racing Team & Sumo Power) |
| Cost to Max No WBK (best setup, including car) | v$170620 |
| Cost to Max with FIA WBK none livery (Livery) inlucding car | v$306720 (v$336720) |
| Cost to Max with GT500 WBK none livery (Livery) including car | v$521720 (v$621720) |
| Times Without WBK | |
| Times with FIA WBK (GT500 WBK) | drag-10.1,track-43.3,endo-53.1(track-42.2) |
The Nissan GTR (also know as the sanni godzilla 35) is unlocked at club racer, it is one of the best track cars in that tier (along with the 911 GT3), It is renowned for its superior handling and acceleration as well as completing the Nurburgring in under 6 minutes and 40 seconds.
Ad blocker interference detected!
Wikia is a free-to-use site that makes money from advertising. We have a modified experience for viewers using ad blockers

Wikia is not accessible if you've made further modifications. Remove the custom ad blocker rule(s) and the page will load as expected.