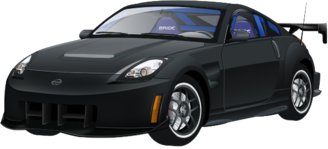 Tuned 350Z
(NISMO JGTC Z33 WBK)

This car was renamed Sanni Fairplay SS
Horsepower (stock/max)
287HP/533HP
Torque (stock/max)
274ft-lbs/464ft-lbs
Weight
3339 lbs
Creator
Paid designers
Widebodykit
Nismo JGTC WBK $250,000
Price
$27,000
Unlock level
Experienced
Conversion kit
-
Description
The recently resuscitated Fairlady Z has become a widely popular car for enthusiasts.
Colours (WBK Colours)
Carbon Silver, Daytona Blue, Magnetic Black, Redline, Pike's Peak White, San Marino Blue, Silver Alloy, Solar Orange (Orange custom livery, Japan white custom livery, Xanavi livery)
Times

Drag:

Track: 44.9 sec with Sanmo JGTC kit

Enduro :
Ad blocker interference detected!
Wikia is a free-to-use site that makes money from advertising. We have a modified experience for viewers using ad blockers

Wikia is not accessible if you've made further modifications. Remove the custom ad blocker rule(s) and the page will load as expected.