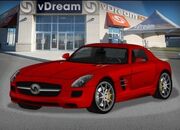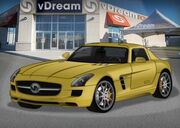 The resurrection of the Gullwing doored cars, this is the 2nd MB car released in the MB month of vDream. Many know this because of the hint Cheechoo gave in the vForum.
It has a good supply of visual parts but lacks in performance parts.
Horsepower

(stock/max)

563 HP/?
Torque

(stock/max)

479 ft-lbs/?
Weight

(stock/lightest)

3,600 lbs/?
Creator
Josh F.
WideBodyKits
N/A
Price
$188,000
Unlock Level
Professional
Conversions
N/A
Description
The Mercedes-Benz SLS AMG gullwing - based off of the old school 300SL, and brought back to life in 2010!
Colors (wbk colors)
Mystic White, Alubeam Silver, Desert Gold, Le Mans Red, Obsidian Black (Mercedes)
Ad blocker interference detected!
Wikia is a free-to-use site that makes money from advertising. We have a modified experience for viewers using ad blockers

Wikia is not accessible if you've made further modifications. Remove the custom ad blocker rule(s) and the page will load as expected.