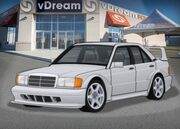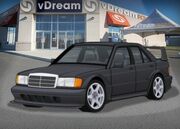 The 3rd Mercedes Benz car to get released in the MB month of vDream, this car is popular among players of GT4 as a DTM version.
There are some visual parts but there are few performance parts which makes it only a show car.
Horsepower

(stock/max)

235 HP/?
Torque

(stock/max)

181 ft-lbs/?
Weight

(stock/lightest)

2,975 lbs/?
Creator
WideBodyKits
N/A
Price
80,000 vDollars
Unlock Level
Club Racer
Conversions
N/A
Description
Built in response to BMW's E30 M3 Sport Evolution road cars, the 190E EVO was born. This is the second iteration of the sports car.
Colors (wbk colors)
Astral Silver, Blauschwarz Black Metallic
Ad blocker interference detected!
Wikia is a free-to-use site that makes money from advertising. We have a modified experience for viewers using ad blockers

Wikia is not accessible if you've made further modifications. Remove the custom ad blocker rule(s) and the page will load as expected.