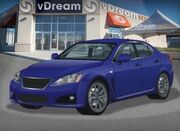 This was the first Lexus to arrive on vDream. It has a decent horsepower and torque, but is very heavy in stock.
Don't expect to use this in a drag race.
Stats:
Stock HP: 416 HP
Stock Torque: 371 ft-lbs
Stock Weight: 3778 lbs
Description: Lexus' answer to the M3 and RS4, this V8-powered sport sedan has made ripples in the luxury sector.
WBKs and Conversions: None, but expect one soon, made by Andrew K.
Release date: Unknown
Creator: Unknown
Maxxed stats are unknown.
Stock times:
Drag:
Track:
Endurance:
Maxxed times:
Drag:
Track:
Endurance:
Ad blocker interference detected!
Wikia is a free-to-use site that makes money from advertising. We have a modified experience for viewers using ad blockers

Wikia is not accessible if you've made further modifications. Remove the custom ad blocker rule(s) and the page will load as expected.